Autobody Parts and Panels, Proudly Made in the USA
Studebaker M-Series Truck 1941-1947 / 48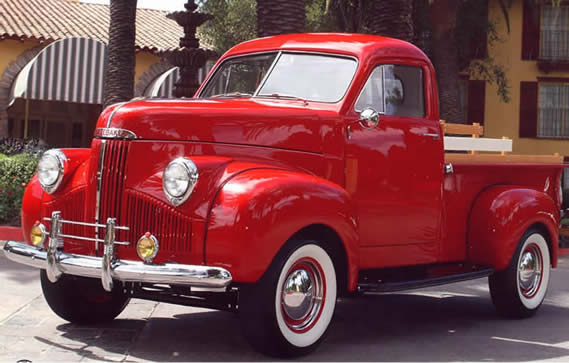 '41-'47/48 Studebaker M-Series Truck Cab Floors
Studebaker M-Series Cab Floors
Nicely die formed panels in #18 gauge steel as was original. Outside and toe-board edges are rolled down. A one inch roll up is formed at the rear edge of the panel. A properly shaped upward bulge is formed at the "flat" of the panel as was original. Floor Panels now include captured nuts for transmission cover hold-down bolts and side to side panel joiner (not shown).

Coming soon-Threshold Support Channels for Floor Panels.
Add to Cart $125.00 Drivers Side
Add to Cart $125.00 Passenger Side
Add to Cart $250.00 Pair Side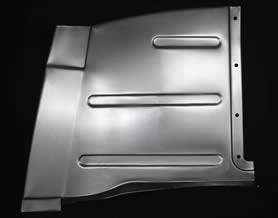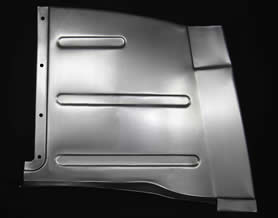 Driver                             Passenger
'41-'47/48 Studebaker M-Series Truck Cab Corners
Cab Corners and Inner Cab Corners are now available. Driver & passenger sides shown at right. Lower side & rear edges are purposely left untrimmed to allow you more flexibility in placement while fitting the panel. Do your final trim after welding is complete. (Tooling has recently been adjusted for improved panel detail).
Add to Cart $95.00 Drivers Side Outer Cab Corner

Add to Cart $95.00 Passenger Side Outer Cab Corner

Add to Cart $20.00 Drivers Side Inner Cab Corner

Add to Cart $20.00 Passenger Side Inner Cab Corner

Add to Cart $230.00 Set of Four (Driver and Passenger                                                     Outer and Inner Cab Corner)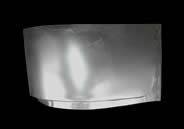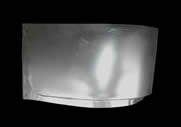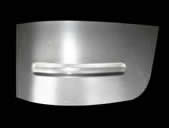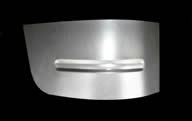 '41-'47/48 Studebaker M Series Truck Rear of Cab Patch
A new lower rear of cab repair panel is now available to you.  Our product is of exceptional quality and manufactured in 18 gauge steel as was original to the vehicle.
Add to Cart $110.00  each

 

'41-'47/48 Studebaker M-Series Truck Rocker Panel
Rocker panels are now available for your M-Series pickup.  Our panels are made in 18 gauge steel as was original to your vehicle.  The ends and curvature of the panels are properly formed for proper authenticity.  We have an exceptional product for you.   None of our panels are cosmetically coated. 
Add to Cart $85.00 Driver Side
Add to Cart $85.00 Passenger Side

Add to Cart $155.00 Pair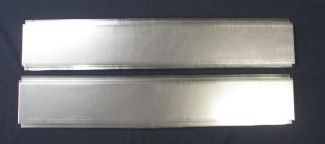 '41-'47/48 Studebaker M-Series Truck Box Floor
Die formed in original 16 gauge steel with one inch upturned outside edges.
Add to Cart  $475.00 each ****There is an additional $95.00 UPS oversize surcharge that is added to our normal 10% shipping charge.
                     License Plates Just For Fun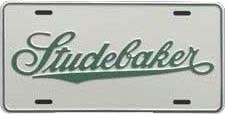 Add to Cart $20.00 each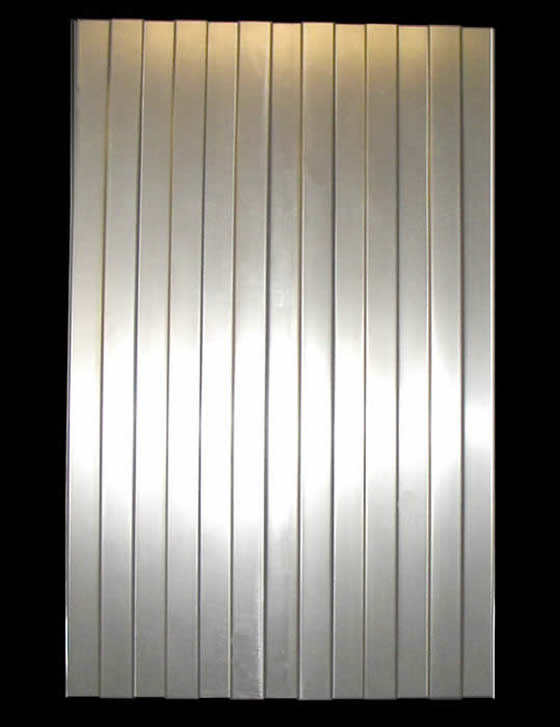 Studebaker Script Stamped Panel
Our heavy 16 gauge die stamped panel is ideal as a wall hanging in a Man Cave, a patio bench backrest, a panel for the face of an office desk or as an overlay for a damaged original Stude pickup tailgate.  Our panel size is 17 3/4" X  49".  The quality of our stamping is exceptional.
Add to Cart $250.00 Script Stamping


Studebaker Sunglasses by Classic Enterprises
A very limited stock of special "AVIATOR  STYLE" sunglasses with gold STUDEBAKER script is still available.  Put them on and you will be guaranteed to look and feel at least 20 years younger when "Cruisin" in your favorite Stude.  ----Honest---
Add to Cart $26.00  Studebaker Sunglasses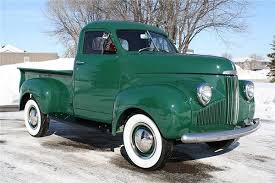 Shipping / Ordering Information
USA Orders
All domestic lower 48 USA orders are shipped at a *(minimum of $15.00 on orders $75.00 or less) and *(20% shipping to all orders over $75.00 and under $150.00) and *(10% to all orders of $150.00 or more).  When ordering by mail we will accept personal, company or cashiers checks and all major types of credit cards. When ordering via fax all major types of credit cards will be accepted. Be sure to carefully record your card number, expiration date and security code. Top credit card security is strictly maintained by us. Click here for a printable order form. For your fastest service you may order on-line.
Foreign / Alaskan-Hawaiian Orders
Foreign can be placed on-line if we are to ship your order to an address anywhere in the USA. In such cases our standard shipping charges will apply. Orders that are to be shipped to foreign countries, Alaska or Hawaii will require a special shipping quote and are not to be placed on-line. You may simply fax or e-mail us your anticipated order and complete shipping address along with your telephone/fax number. We will then provide you with a shipping quote according to your shipping preference if you have one. We will also provide you with further ordering information at that time. All foreign, Alaskan and Hawaiian orders, once confirmed, are to be placed via credit card only. Click here for a printable order form if needed.

Ordering Option Information
Mail Orders
Classic Enterprises
308 W Stout Street

Rice Lake Wi, 54868
Click Here for printable order form if needed or simply write down your order and your other information on whatever paper you choose.
Direct Telephone Orders or Information
 715 537-5422 Call anytime 24/7 with questions or an order.
Secure E-Mail Orders
E-Mail us at Mark@ClassicEnt.com or Click here for printable order form which you can scan and submit via jpg format or simply send your order description to us via a text format.
On-Line Orders
www.ClassicEnt.com For your fastest service.
Main Office Phone # 715 537-5422
WE HOPE THAT YOUR PROJECT GOES WELL - CLASSIC ENTERPRISES
Shipping Policy
Classic Enterprises is a manufacturing facility and factory direct outlet. We do not maintain a large inventory of any one particular item and thus are not always stocked with all of the items which you may need. Non-inventoried items are made to order in the order in which the order was received.
Normal shipping time from our facility is 7 days or less. Sometimes it may take a week longer for certain items. We ship via UPS or FEDEX Ground, which contrary to legend or exaggeration, can take as long as 7 days for delivery. If your order does not arrive within 20 days of order placement, give us a call and we will check the status of your order or furnish you with a tracking number at that time.
 Return Policy
Any of our products can be returned for a prompt credit or refund for any reason within 30 days of the receipt of your order.  No returns will be accepted without prior approval.  All returns must include the original paperwork if available and a detailed note stating the reason for the return.  We also will require a clear return address, a telephone number and an e-mail address if available.  A 10% restock/transaction fee will be deducted from any standard refund.  An additional restock fee will be assessed on any returns that must be re-worked by us in order to be resalable.  Any products which have been  damaged or modified by the customer will  be considered to be non-returnable.  Return shipping costs are the responsibility of the customer although we will assume or reimburse all return expenses if we are in error. 
Thank you in advance for your patience and consideration.