'57, '58, and '59 Ford Retractable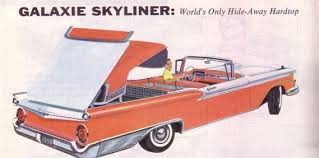 All products are of very good quality, produced in 18 gauge steel, and Made in the USA.
Floor Panels




'57, '58, '59 Ford Retractable



Front floor sections are compatible with all '57-'58-'59 Ford, Mercury, Edsel and Ranchero types, but are specifically built to fit '57-'59 Ford Retractables.
Rear Floor sections may be adapted for use on all types. Retractable and Convertible rear floor foot wells are narrower and deeper than standard Ford Motor Company types.
Our front and rear floor panels will overlap during installation or can be trimmed as desired for a butt-weld.

Die Formed
18 Gauge Steel
Restoration Quality
Now in Production!
Call for Details - (715) 234-4677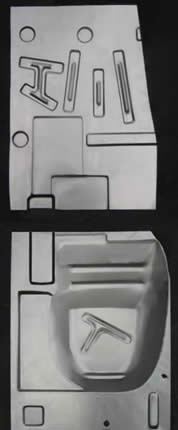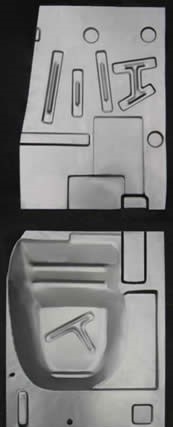 Spare Tire Well
'57, '58, '59 Ford Retractable
Our spare tire wells are properly gauged and nicely die formed, and will fit the retractable types only.
Each panel stands approximately 2" high, enough to replace the curved edge. All panels are made in the USA, within our own facility.
Now in Production!
Call for Details - (715) 234-4677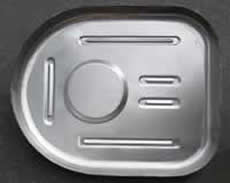 Click Below For A Classic Retractable Commercial
Shipping / Ordering Information
USA Orders
When shipping within the contiguous United States, a shipping charge of $20 will be applied to any order equal to or below $100, and a 20% shipping charge will be applied to any order over $100.
If ordering via mail, please give us a call in advance at 715-234-4677 to arrange payment method.
International / Alaskan-Hawaiian Orders
International customers can order on-line if we are to ship your order to an address in the contiguous United States. In such cases our standard shipping charges will apply.
Orders that are to be shipped internationally, to Alaska or Hawaii will require a special shipping quote and are not to be placed on-line. You may simply e-mail us your anticipated order and complete shipping address along with your telephone number. We will then provide you with a shipping quote according to your shipping preference if you have one. We will also provide you with further ordering information at that time. All international, Alaskan and Hawaiian orders, once confirmed, are to be placed via credit card or PayPal only.
Ordering Option Information
Direct Telephone Orders or Information
715-234-4677
E-Mail Orders
E-Mail us at Mark@ClassicEnt.com or Click here for printable order form which you can scan and submit via jpg format or simply send your order description to us via a text format.
On-Line Orders
www.ClassicEnt.com
Shipping Policy
Classic Enterprises is a manufacturing facility and factory direct outlet. We do not maintain a large inventory of any one particular item and thus are not always stocked with all of the items which you may need. Non-inventoried items are made to order in the order in which the order was received.
Return Policy
No returns will be accepted without prior approval, please call 715-234-4677.  All returns must include the original paperwork if available and a detailed note stating the reason for the return.  We also will require a clear return address, a telephone number and an e-mail address if available.
A 10% restock/transaction fee will be deducted from any standard refund.  An additional restock fee will be assessed on any returns that must be re-worked by us in order to be resalable.  Any products which have been damaged or modified by the customer will be considered to be non-returnable.  Return shipping costs are the responsibility of the customer, although we will assume or reimburse all return expensed if we are in error.