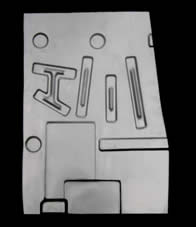 Our FLOOR PANELS fit 57-58-59 FORD but are specifically built to fit 57-58-59 FORD RETRACTABLE and CONVERTIBLE types. SPARE TIRE TUBS are also available for RETRACTABLE types.
All products are of very good quality in proper 18 gauge steel and MADE IN THE USA. We manufacture no other FORD products beyond those shown on this page. Call anytime 24/7 if you have questions (715-537-5422).
We hope that your project goes well.
Front floor sections are compatible with all '57-'58-'59 Ford, Mercury, Edsel and Ranchero types. Rear Floor sections may be adapted for use on all types. (It should be noted that Retractable and Convertible rear floor foot wells are narrower and deeper than standard Ford Motor Company types.) (Front and rear floor panels as shown below will overlap during installation or can be trimmed as desired for a butt-weld.)