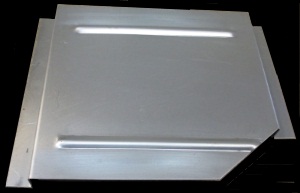 Our exhaust heat shield protects your rear floor panel from excessive muffler heat. It is reproduced in 18 gauge American steel by Classic Enterprises at our production facility here in the USA.

Note that our panel is shown upside down for illustrative purposes and that the indent detail differs from the original.
None of our panels are cosmetically coated.  Click here to find out why.
Made in the USA