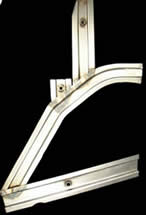 Our floor supports are of exceptional quality and manufactured in steel that is heavier than the original factory components. All of our patterns and jigs have been updated to provide for an improved product in general. Special care has been taken to assure that original factory appearance is preserved. Note that we continue to use pipe stand-offs rather than the original type wood crush blocks in all boltdown areas. Our supports can be special ordered with original factory type wood crush blocks if desired. Floor support joiners are now available, sold separately.
Top view of both our driver and passenger side floor supports are shown below. Original early CJ5 Jeep type floor supports have either a square tubing or a channel support element that fits under the driver firewall  support.  (Note photographs  below.) Be sure to specify "tube type" or "channel type" when ordering.  (Sometimes the Jeep engineers did mysterious things.)
None of our panels are cosmetically coated. Click here to find out why.
Made in the USA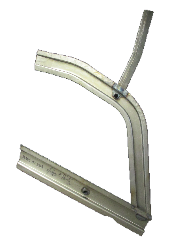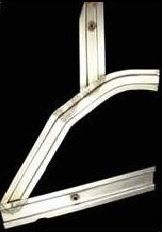 "Square Tube" style is usually found on 6 or 8 cylinder models.
____________________________________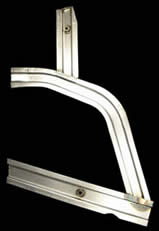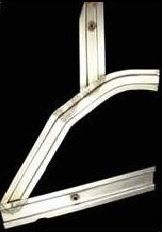 "Channel Type" style is usually found on 4 cylinder models.