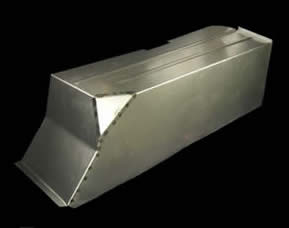 Fits your  1951 - 1975 CJ5 or M38A1 Jeep or Willys.  Formed in 18 gauge steel as was original. Make sure to specify when ordering if it is for with a Tailgate or without as there are small differences in the way they fit inside of the rear panel on your Jeep or Willys.
Our wheelhouses are of exceptional quality and made in properly gauged American steel in our USA facility. All ribs and outboard edges are die formed for proper appearance and detail accuracy. Our wheelhouses are sized for an exact fit during your installation without the need for modification or adjustment on your part.
None of our panels are cosmetically coated. Click here to find out why.
Made in the USA