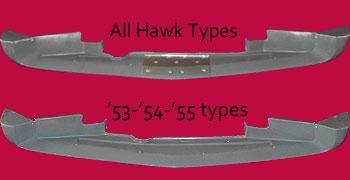 (Under front bumper air scoops)
A very good quality product reproduced in sturdy fiberglass, steel reinforced at radiator bracket area attachment point on all types.
All Hawk types-'56 to '64 are specifically reinforced by a steel plate imbedded well beyond the hood latch area. Detachable hood latch plate is provided for hood latch retainer attachment. Corrections have been made which makes for a much improved product.