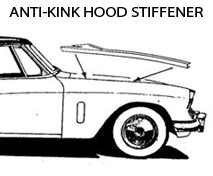 Freshly re-designed to give greater strength to a notoriously kink prone area on all '53-'64 coupes and hawks and some '53-'58 sedan types.
Our new design is properly shaped to your hood edge contour and will reinforce the kink prone areas for a length of 23".
Preferred attachment is via plug welds along the outside hood lip.  Pop-rivets, automotive adhesive or a combination of both is sometime used by some installers.  Remember that it is always a wise precaution to install our anti-kinks whenever doing a restoration or a paint job.  Installation instructions will be included with your purchase.
Installation instructions included with purchase.
A HOOD KINK PREVENTATIVE CAUTION
Remember that it is always best that you personally open or close your own hood.  Always pull the hood toward you when opening and push away from you when closing.  Use sufficient force to make it work as smoothly as possible.  Make sure that your pivot points are occasionally oiled and that your hood springs are in proper shape.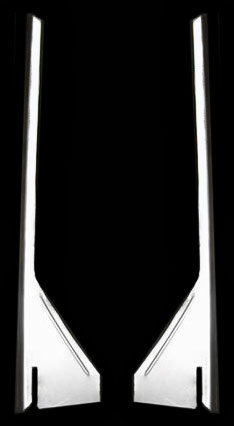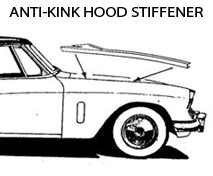 Instructions
1. Straighten Hood
2. Tap Anti-Kink device into place. (End tab must slide between rear traverse stiffener of the hood and hood sheet metal). Continue tapping rearward until anti-kink notch bottoms out or until the hood skin begins to bulge or distort.
3. Mark placement of anti-kink device
4. Remove anti-kink device
5. Drill 7 or 8 holes through outer lip of hood between marks. (Holes should not exceed 5/16 inch in diameter).*
6. De-burr holes.
7. Re-install anti-kink device.
8. Clamp and weld. Proper heat setting and speed of weld plus a sopping wet rag in the proper place can prevent damage to painted surface of hood. (It is recommended that you use a wire feed welder).*