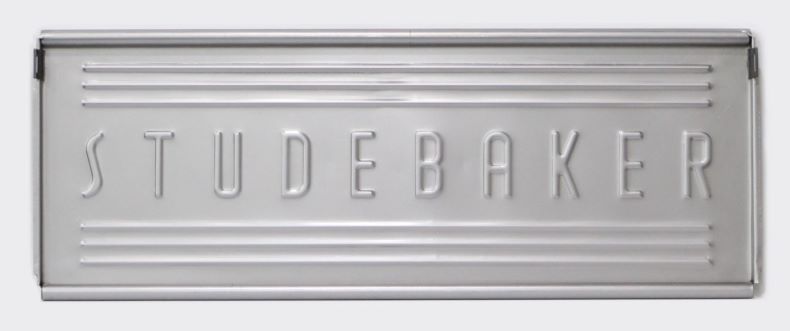 This tailgate features original stamping into heavy-duty, 16 gauge steel. The chain hook eyes are securely attached via five spot welds each, just like the original. Expertly developed and manufactured in the CE shop, this is an American-made product.
Producing this long-awaited piece has been an effort on several fronts. It included reaching out to 
The
Studebaker National  Museum
for prints of the original engineering drawings used by Studebaker. According to Craig, "It was pretty cool to study drawings made over 50 years ago in order to recreate this part today. I wonder if those engineers and drafters ever had the thought of their work being reproduced over half a century later?"
Our intent was an unmatched attention to detail, and we believe we have achieved that.
16 Gauge Steel
Chain Hook Eyes Attached

Original Stamping
48 inches wide
Fits "Narrow" boxes for Studebaker C-Cab, and T-Cab with the Studebaker box only
None of our panels are cosmetically coated. Click here to find out why.
Made in the USA