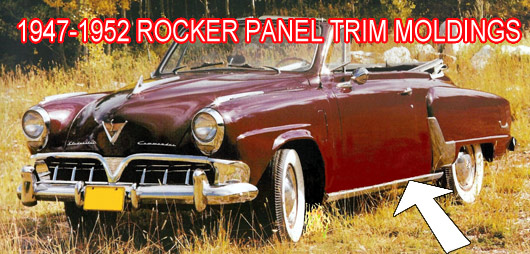 We now produce exceptional quality '47-'52 Rocker panel trim moldings in show-quality high-luster stainless steel. You may order in 2-door, 4-door, or cruiser lengths. Our moldings are an ideal replacement for dented, creased, or generally tarnished original moldings!
You might also consider that our moldings would be a great addition to your unadorned Stude and will definitely add a lot of extra snap and class to the look of an already cool-looking car. Molding clips and installation instructions are included.
                          '1947-1952 STUDEBAKER ROCKER PANEL TRIM MOLDING INSTALLATION INSTRUCTIONS
    THERE ARE TWO FORWARD TAB FINGERS ON OUR MOLDINGS. THEY ARE TO BE CLINCHED OVER THE FORWARD ROCKER END LIP FROM THE BACK SIDE AS A LAST STEP IN INSTALLATION. A SPACER GAUGE IS PART OF YOUR ORDER. BE SURE THAT IT WILL SLIDE INTO THE GAP BETWEEN THE FORWARD END OF YOUR ROCKER PANEL AND THE FRONT FENDER SPACER PANEL. IF INSUFFICIENT SPACE EXISTS YOU MAY DRIVE A PUTTY KNIFE OR OTHER SIMILAR TOOL INTO THE SPACE IN ORDER TO WIDEN THE GAP.
          NOTE: THE PROTECTIVE PLASTIC COATING ON THE MOLDINGS.
        USE A HEAT GUN AND PEEL BACK ONLY THE PORTION OF THE PLASTIC THAT WOULD FIT BETWEEN THE MOLDINGS INNER FACE AND THE CAR. LEAVE THE REMAINING PLASTIC IN PLACE TO PROTECT THE PARTS OF THE PANEL THAT WOULD BE VISIBLE AFTER COMPLETION. YOUR ROCKER MOLDINGS CAN BE DENTED OR OTHERWISE DAMAGED IF NOT HANDLED CAREFULLY. DO NOT USE A RUBBER HAMMER DURING ANY PART OF THE INSTALLATION. HAND AND FINGER PRESSURE SHOULD DO IT. (ALWAYS LUBRICATE MOLDING CLIP TABS WITH GREASE OR VASELINE). IT APPEARS THAT MOLDING CLIP PLACEMENT NOT ONLY VARIED FROM CAR TO CAR OR FROM YEAR TO YEAR BUT FROM DAY TO DAY DEPENDING ON THE MOOD OF THE INSTALLERS ON THAT PARTICULAR DAY. OUR CLIP PLACEMENT MEASUREMENTS ARE THE BEST THAT WE COULD GET FROM THE ORIGINALS WHICH WE EXAMINED AND ARE BY NO MEANS MEASUREMENTS WHICH ANYONE HAS CHISELED INTO STONE.
             OUR INSTALLATION INSTRUCTIONS ARE NOT INTENDED TO BE ALL INCLUSIVE. WHEN ALL ELSE FAILS YOU SHOULD USE YOUR OWN BEST JUDGEMENT IN PLACEMENT. NOTE THAT OUR TRIM MOLDING IS FIDDLE STRING STRAIGHT FROM FRONT TO BACK AND WILL BE FORCED TO TAKE UP A COMPOUND CURVE DURING INSTALLATION. DO NOT TRY TO PRE-CURVE OUR PANEL BEFORE INSTALLATION LEST YOU FORM A KINK OR DISTORTION THAT WILL DEFINITELY RUIN YOUR DAY. CHOOSE YOUR INSTALLATION OPTION BELOW DEPENDING ON YOUR CIRCUMSTANCES
       OPTION 1 IF YOUR CAR HAS PRE-PUNCHED ROCKER PANEL SLOTS YOU MAY INSTALL OUR CLIPS INTO PLACE ON THE ROCKER PANELS AS THEY HAD BEEN PREVIOUSLY PLACED ACCORDING TO THE ILLUSTRATION SHOWN ON AN UPCOMING PAGE. THE PLACEMENTS FROM THE FORWARD END OF THE ROCKER PANEL TO THE REAR ARE APPROX. 3 1/4"-------17 1/4"---------31 ¼"--------45 ¼"----------59 ¼"-----AND----73 ¼" FOR CRUISER TYPES. PROPERLY ORIENT YOUR CLIPS AND INSTALL INTO THE CARS ROCKER PANEL SLOTS MAKING SURE THAT THEY ARE PROPERLY SEATED AND PROPERLY ADJUSTED UP OR DOWN TO ALLOW FOR A STRAIGHT LINE FROM FRONT TO BACK. LUBRICATE CLIP TABS WITH GREASE OR VASELINE. WITH A PATIENT ASSISTANT YOU MAY BEGIN AT THE FRONT BY ALIGNING THE TWO FORWARD ROCKER TRIM MOLDING TAB FINGERS WITH THE ROCKER/FENDER SPACER SLOT. SLIDE THE UPPER MOLDING EDGE BETWEEN THE ROCKER PANEL AND THE MOLDING CLIP ALONG THE ENTIRE UPPER LENGTH OF THE PANEL AND PUSH FIRMLY DOWNWARD UNTIL IT IS PROPERLY SEATED. USE YOUR PALM AND SNAP THE BOTTOM OF THE MOLDING INTO PLACE. IF YOU MEET UNDUE RESISTANCE YOU MAY HAVE TO REMOVE THE PANEL AND ADJUST A CLIP TAB OR TWO OR SAND THE EDGE OF OUR PANEL TO ALLOW FOR MORE CLEARANCE. BEWARE UNDUE INSTALLATION PRESSURE!!!
        OPTION 2    SOME ROCKER MOLDINGS HAD THE CLIPS PRE-ATTACHED AND WERE INTENDED TO BE BOLTED INTO PLACE. YOU MAY PRE-INSTALL OUR CLIPS INTO THE MOLDINGS BEFORE PLACEMENT ONTO THE VEHICLE INTO THE ORIGINAL HOLES. (YOU MAY HAVE TO ADJUST THE HOLES TO ACCOMMODATE OUR CLIPS.) PRE-INSTALLATION OF THE CLIPS WILL MAKE THE JOB EASIER AND YOU WILL BE LESS LIKELY TO CAUSE DAMAGE TO OUR TRIM PANEL. IT APPEARS THAT THE ORIGINAL CLIPS WERE PLACED AT APPROX. 6 ¼"---------22 5/8" --------------38 7/8"-----------54 7/8"-----------73 5/16"--------MAKE YOUR DECISION IN PLACEMENT ACCORDING TO YOUR NEED.
       OPTION 3   THIS OPTION IS INTENDED FOR A FRESH INSTALLATION ON NEW UN-SLOTTED ROCKER PANELS. DRILL A SERIES OF 3/8" HOLES DOWN FROM THE WEATHERSTRIP CHANNEL EDGE IN A STRAIGHT LINE FROM FRONT TO BACK. YOU MAY PLACE YOUR HOLES AT 3 ¼'---------17 ¼"----------31 ¼"----------45 ¼"--------59 ¼" AND AT 73 ¼" ON SOME TYPES IF LENGTH PERMITS. YOU MAY VARY YOUR PLACEMENT ACCORDING TO YOUR CIRCUMSTANCES. IT IS EASIEST TO PRE-INSTALL YOUR CLIPS INTO THE MOLDING AND HAVE A PATIENT ASSISTANT HELP YOU GUIDE THE BOLTS INTO THE HOLES. TIGHTEN DOWN THE BOLTS AND CLINCH THE FORWARD TAB FINGERS OF OUR MOLDING TO THE LEADING EDGE OF THE CARS ROCKER PANEL. ONCE THE PANELS ARE SECURELY IN PLACE YOU MAY USE YOUR HEAT GUN TO REMOVE THE PROTECTIVE PLASTIC. NOW IT IS TIME TO LIGHT UP YOUR STUDE AND GO "CRUZIN". IMPORTANT THINGS TO CONSIDER BEWARE THE FOLDED OVER EDGES OF OUR PANEL THAT ARE SOMETIMES SHARPER THAN GRANDPAS STRAIGHT RAZOR. USE FINE SANDPAPER TO TAKE DOWN THE EDGES IF NECESSARY. BEWARE BEING IN A HURRY. IT IS BEST TO WALK AWAY FROM THE PROJECT IF YOU GET FRUSTRATED AND GIVE IT ANOTHER TRY AT ANOTHER DAY RATHER THAN TO MESS UP THE INSTALLATION. WE HAVE MODIFIED THE END CAPS OF THE ROCKER MOLDING TO GIVE YOU A BETTER PRODUCT. THE ORIGINAL STUDE END CAPS WERE BUTT- FITTED AND SPOT WELDED INTO PLACE. THE BUTT- FIT LEFT DAYLIGHT GAPS AND THE SPOT-WELDS LEFT DIMPLES. OUR FIT AND FINISH IS MUCH BETTER. IF YOU WANT THE MORE CRUDE STUDE LOOK WE WILL MAKE A CUSTOM SET THAT WAY FOR YOU.
                       BEWARE—HANDLE AND CLEAN THE MOLDING WITH CARE. THE MOLDING IS A HIGH LUSTER STAINLESS STEEL THAT WILL DENT AND SCRATCH MORE EASILY THAN ANYTHING THAT IS CHROME PLATED. USE ONLY A MILD DETERGENT AND SOFT CLOTH WHEN CLEANING. DO NOT RUB AND SCRUB WITH TOO MUCH PRESSURE. DO NOT USE AN ABRASIVE CLEANER. DO NOT USE A CHROME CLEANER WHICH IS LOADED WITH ABRASIVES AND INTENDED FOR A MUCH HARDER CHROME FINISH. WE RECOMMEND WASHING WITH DISH DETERGENT AND WAXING AFTERWARD. NOTE THAT THE HIGH LUSTER FINISH CAN BE RESTORED WITH A BUFFING SHEET AND STAINLESS STEEL BUFFING POLISH WHICH CAN BE PURCHASED AT MOST ANY HARDWARE STORE. DO NOT USE CHROME POLISH.