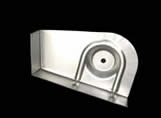 Made of steel, which is heavier than the original. (Note, the amount of shim used between the frame and the trunk floor corners can be used to adjust door fit.)
Outside 90o  up turned bends are now rounded for a more authentic appearence.
Driver side and passenger side shown below.